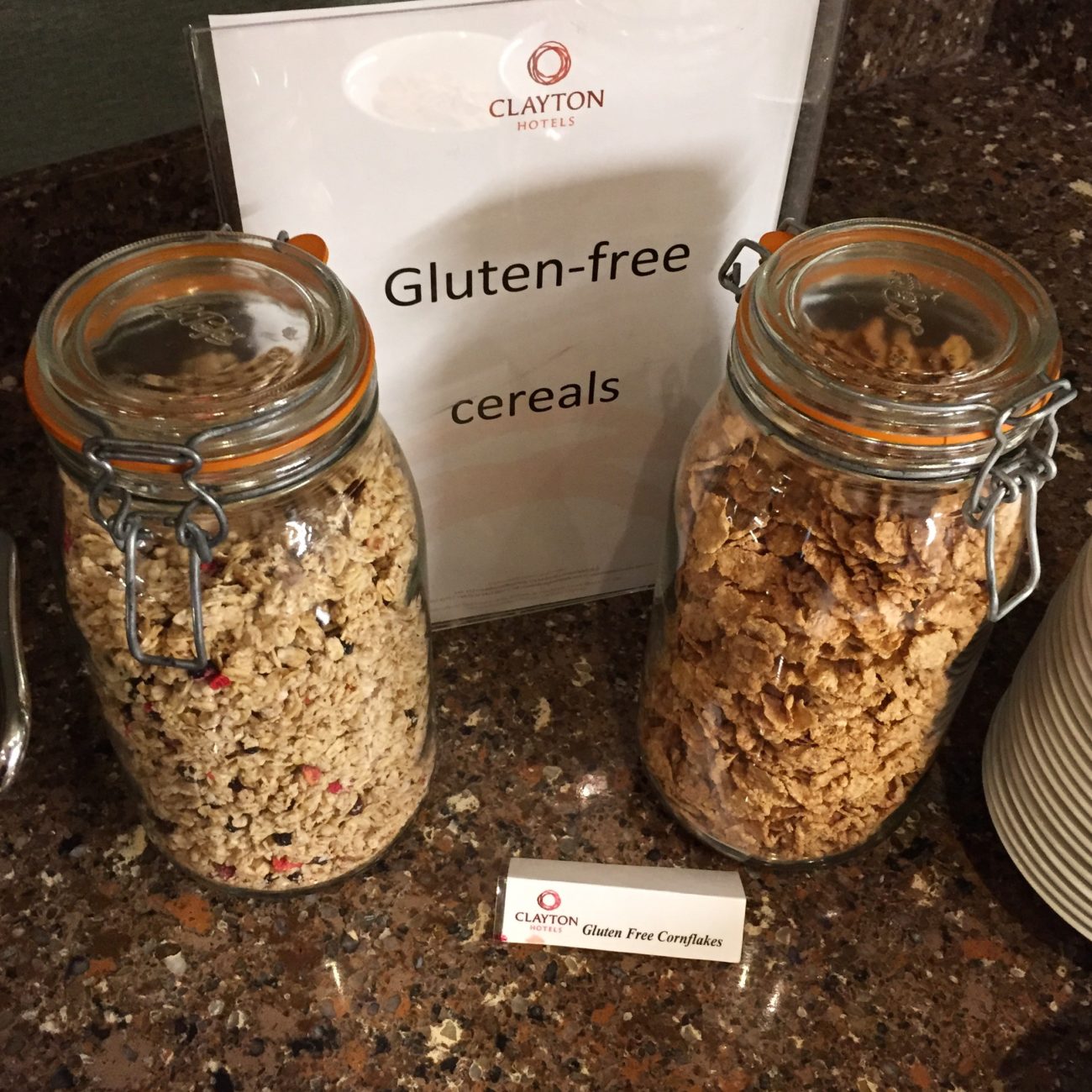 Today started with a nice surprise as there was a second gluten free cereal at the breakfast buffet today.
The gluten free cereal is stored seperately from the normal cereal in airtight glasses and there are extra bowls for the gluten free cereal.
Of course I had to try both, with milk and yoghurt. Five bowls of cereal later I was full and decided to end the meal with a trip to the juice bar.
There was freshly pressed orange juice, organic kiwi and spinach juice, apple juice, peach ice tea with extra vitamin C and detox water with cucumber and lemon slices and mint leaves.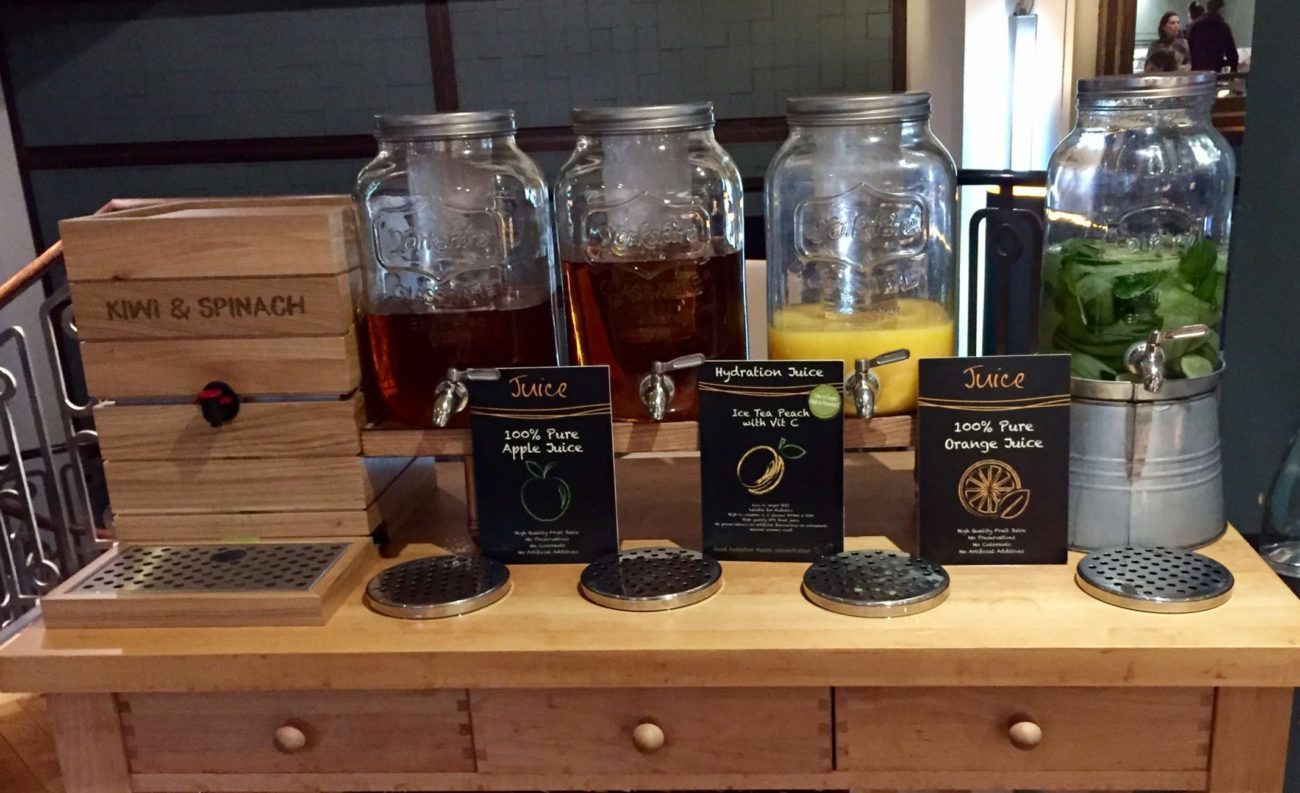 We made our way into two via the 332 Bus to Kilburn Station and then from there via the Jubilee line to Bond Street. But then the confusion began. To where do we have to continue with the Central line? We went somewhere, noticed that was wrong, then went somewhere else, but that was wrong too. In the end I was lucky that my phone picked up a random free Wi-Fi signal so I could look it up.
We had to go to Cambridge Heath and we were currently at Tower Hill. If you know London you know that's a shitty connection. To get ready for the journey we stopped the Costa's, where I found a gluten-free chicken salad sandwich and gluten-free brownies, but sadly the brownies were with almond flour and I'm allergic to almonds too. Chicken salad is not my cup of tea, but otherwise the sandwich looks really good.
Broadway Market
When you exit the station at Cambridge Heath there is no sign leading you to the Broadway Market. But that was a nice bloke who asked where we wanted to go and he could tell us how to get to the market.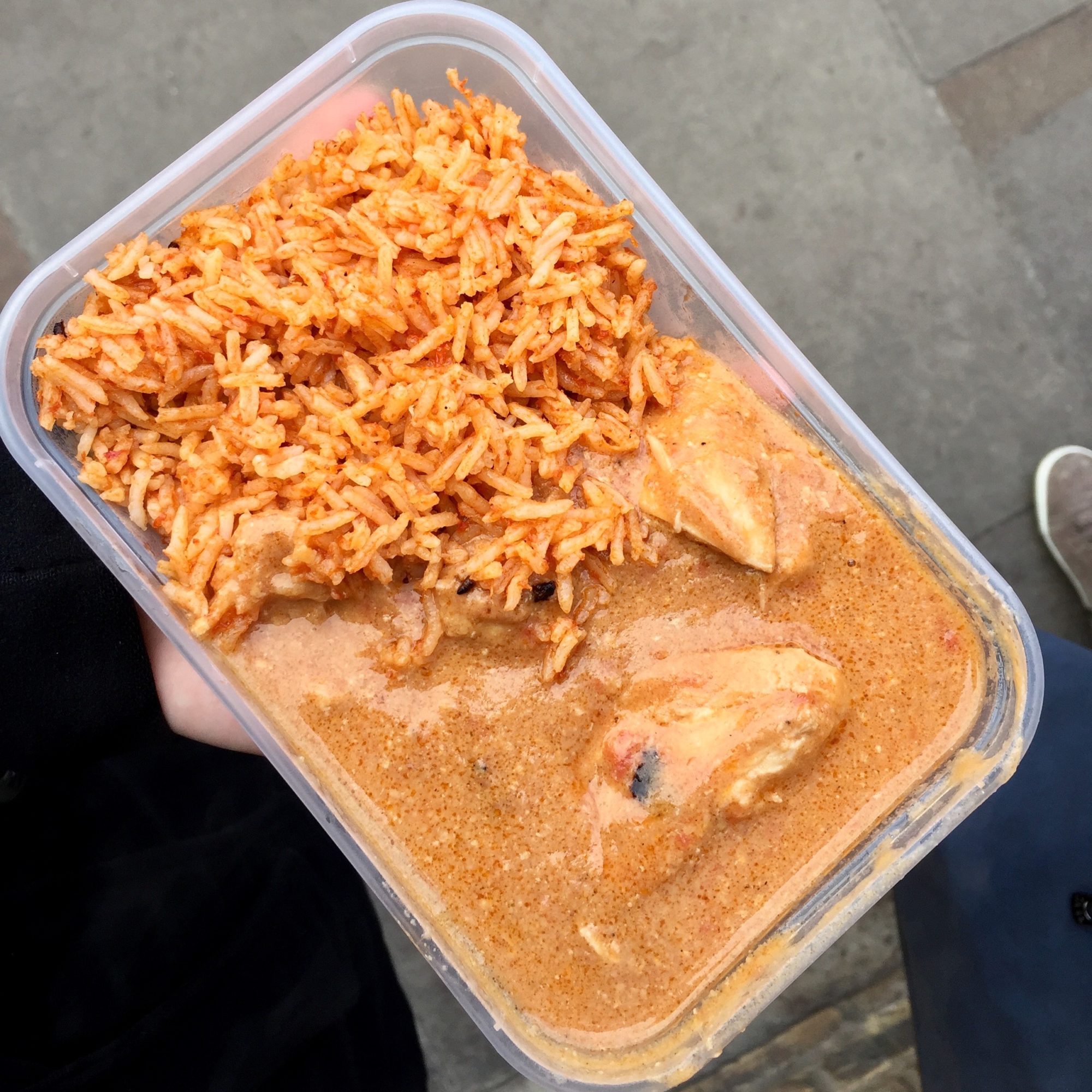 The market itself is amazing. It's a bit packed, but given that the market is only on Saturdays it's understandable.
The weather was great too, the sun was shining.
Since we needed so long to get there it was already past noon and we decided to get something warm to eat first when we walked past the booth of Spinach & Agushi it just smelled too good not to stop.
We had chicken groundnut with Jollof rice for £5,50. Which remain the best money we spend that day.
It was delicious the sauce was creamy, the chicken was soft and although it could've been a little bit spicier I guess that's not everyone's cup of tea, so it was just great as it was.
I haven't had the chance to eat Ghanaian cuisine that often, but every time I did up until now it tasted amazing and I never had problems afterwards.
The next stop was a booth called Finest Fayre, with scotch eggs. They had classic and vegetarian gluten-free scotch eggs, too. We tried a classic one with chutney and while it will not become my favorite food it was good.
I read on a blog about stall with Meringue in rainbow colors. Which is where we went next. We got two mini Pavlova's. One with pistachios and one with raspberry and while they tasted really good, for £2 each they're just too expensive.
We took a stroll through the park and on the way back we found 'Floris Foods'. They only sell gluten-free baked goods. They have cheesecakes, they have donuts, they have pastries, they have Eclairs and they have cookies. I have gluten-free vegan Oreo style cookie and ordered a salted Caramell Eclair, but I think I got a burnt caramel Eclair, because, well… the caramel was burned. 😀
On the way back we walked past 'Eat 'n' mess' who also sell only gluten-free baked goods. In retrospect I'm a little sad that I didn't go there instead. The burnt caramel really put me off…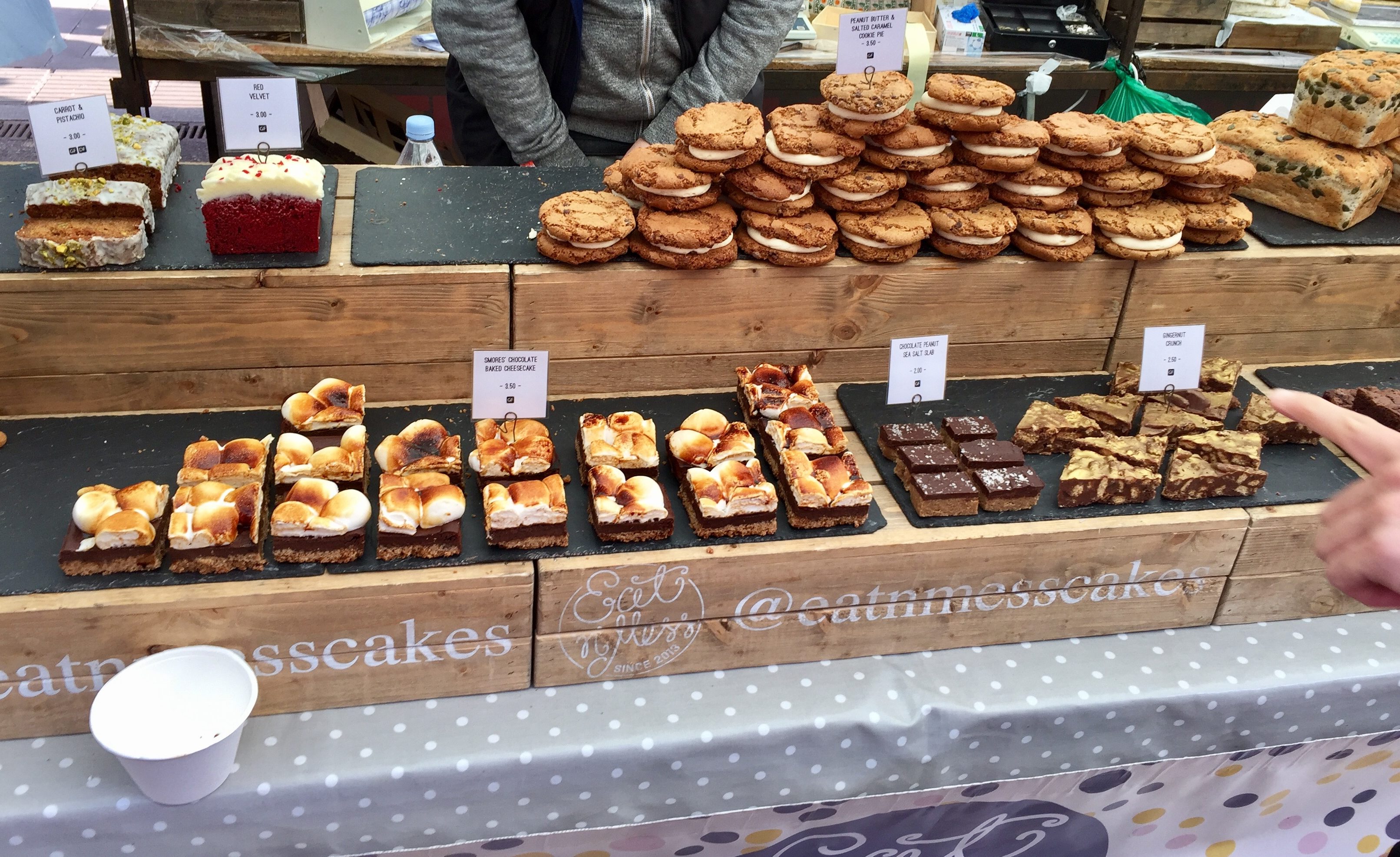 Hammersmith
Since my grandma wanted to buy shoes in England, specifically Clarks, went to the king small and Hammersmith where she actually did find a pair of shoes and afterwords we went to vegetarian Indian restaurant called Sagar. They have four places all over London.
We had two plain Dosa's (lentil pancakes) one Aloo Ghobi (cauliflower, fresh tomato, potato and red and green bell pepper curry) and a Channa Massala (chickpea curry). The Dosas were £5.25 each and the curries £6.25 each. Additionally we shared a Mango Lassi for £3.25.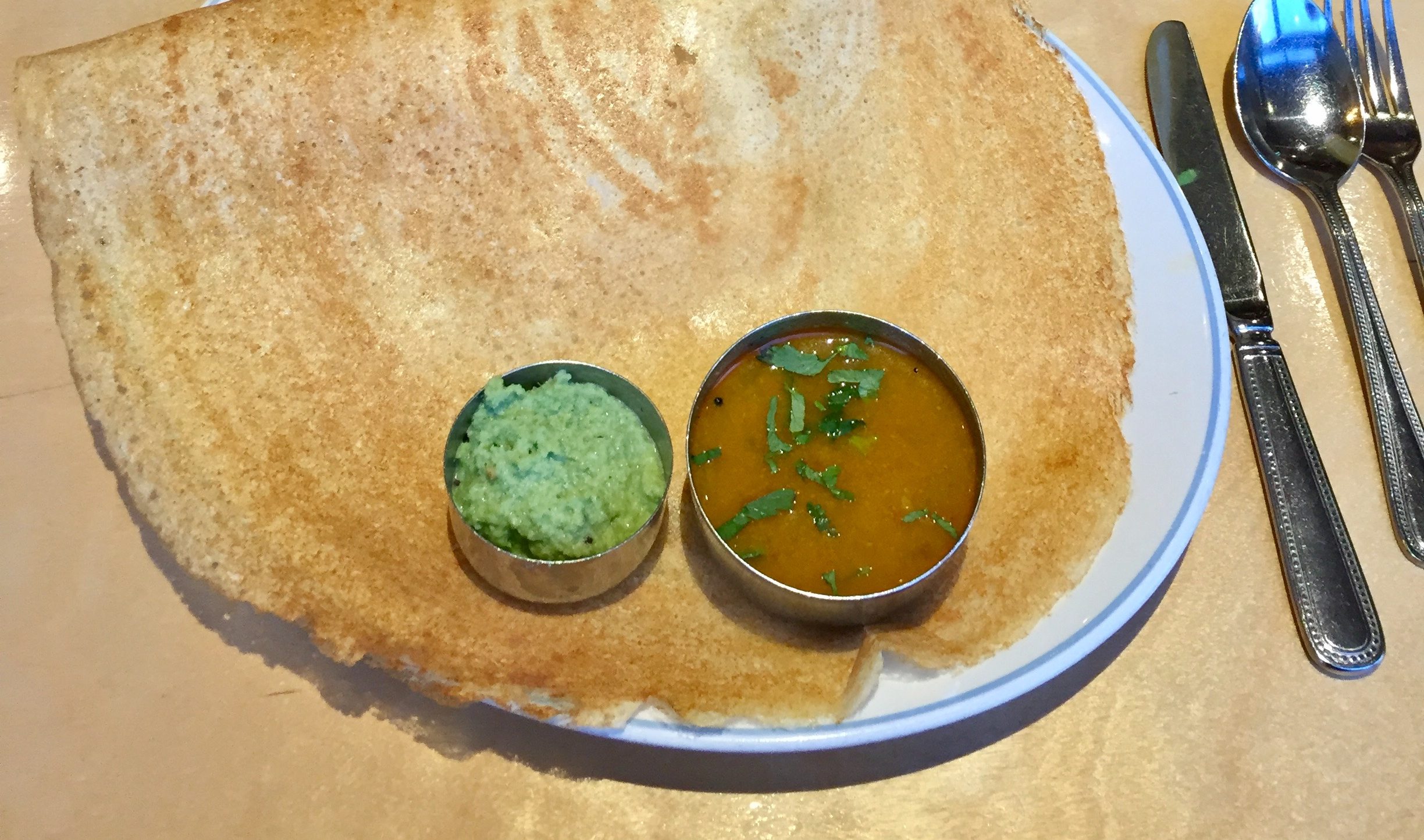 Throughoutly sated we went back to the hotel and almost immediately to bed.