When you are in the gluten free community on instagram and ask for gluten free restaurants in London, someone is bound to recommend Crêpes à la carte. Since Galettes are traditionally made from 100% Buckwheat flour they are naturally gluten free.
The founders are two Bretons who wanted to bring a taste for galettes and crepes to London (and to everyone who visits them in London).
The restaurant at 112 Kentish Town Road has only been open for a few months, until then you were only able to find the tasty french pancakes on markets such as Camden Market and Primrose Hill Market. And even though they have a restaurant now you can still find them on markets.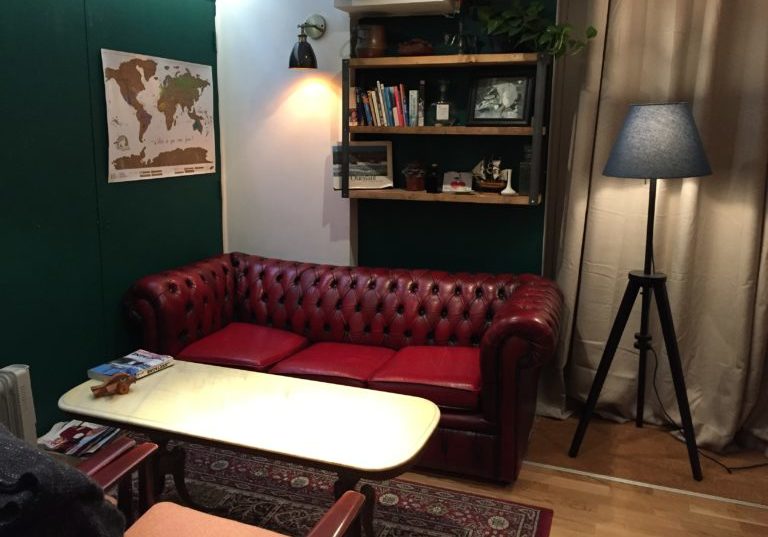 The restaurant itself has very tasteful interior, it's a ix between old and new furniture and gives the place it's own charm. The area at street level isn't that cozy, but the lounge downstairs is. On the world map you can see on the picture above every customer can scratch out the country they're from and give everyone an insight into how diverse the customers are.
It's the little details which make Crêpes à la carte so special: the map I mentioned, the French dictionaries (and a Russian one), the post cards, the picture of the London sky line on the loo.
Galette?
Galette, which is more properly called Breton galette, is also the name given in most French
crêperies
to savoury buckwheat flour pancakes, while those made from wheat flour, much smaller in size and mostly served with a sweet filling, are branded crêpes. This type of galette is a large, thin pancake mostly associated with the region of Brittany, where it replaced at times bread as basic food, but it is eaten countrywide.
This is an explanation taken from
wikipedia.org/wiki/Galette
Crêpes à la carte menu
There are a few options to choose from and when you don't like something you can change it, or even create your own filling. I had the "La Complete." A galette with emmental cheese, free range ham and free range egg for £7.80.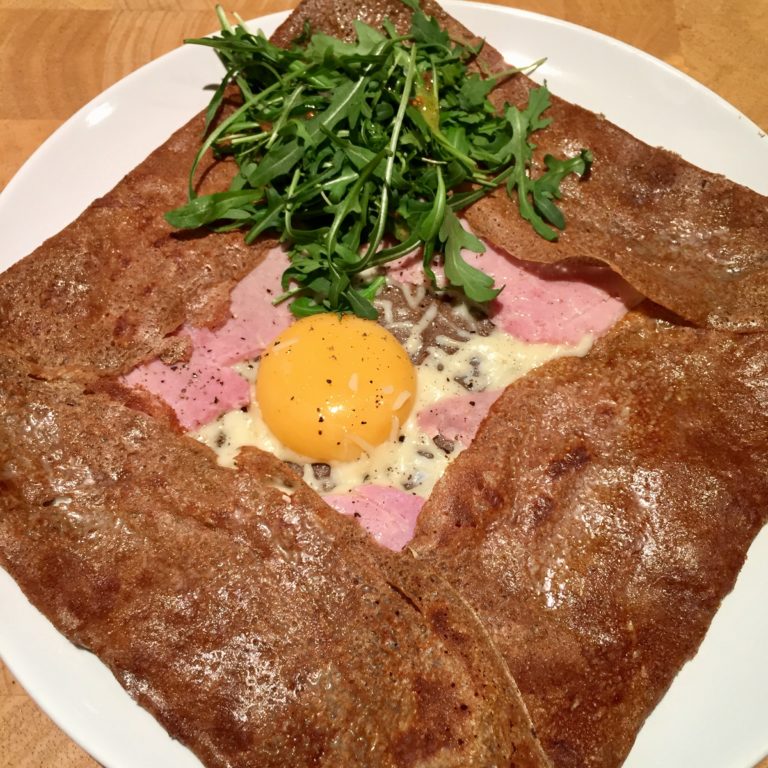 Afterwards I was still hungry, so I had a Crêpe (not really, I had a galette, but it would've been a crêpe) with homemade apple compote for £4.20 and cinnamon. I really liked their apple compote, since it wasn't too sweet. Sadly, because I was still hungry I forgot to take a picture until I had finished it… But I can assure you it was filled as generously as the one above.
There are also vegetarian and vegan options on the menu.
I had the firefly lemon, lime ginger juice and my grandma the firefly juice with peach and green tea you can see on the picture for £2.90 each.
Whenever possible they provide fair trade and sustainable products. The vegetables, fruits and herbs they use are all organic and they source their organic buckwheat from Brittany.
---
They don't have a website (yet?) but you can find them on Facebook here
Crêpes à la carte
112 Kentish Town Road
Camden Town, London NW1
United Kingdom
---
If you've been here before or you go here soon, I would be delighted when you leave a comment.